When it comes to the bid process, everything comes down to the project owner reaching out to ask for bids. And for the Immel team, we take pride in representing the Green Bay, Wisconsin area, and the Upper Midwest. With a legacy of being a leader in the construction industry for over 50 years, our team is excited to share with you an overview of the different types of bids, what sets the tone, and our view on the process.


Open vs. Closed Bids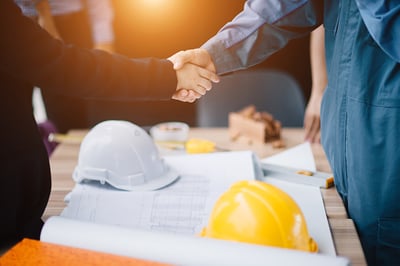 A distinction to make when dealing with the whole bidding process is whether it is an open or closed bid — not to be confused with the difference between a bid and an estimate. An estimate is often referred to as the calculation of the contractor's internal costs, including materials and labor, and a bid is a final price offered to a customer.
Open bids, also known as unsealed bids, are ones that can be changed or modified after the initial submission. This is a method to meet the demands of competing bids. This form of bidding is open to all of the bidders so they may see and act upon it if they so desire.
Closed bids, on the other hand, follow a process of bidders offering their best price without knowing what their competitors are willing to pay. By keeping the information of other bidders secret until after all offers have been received, bidders are forced to provide the most accurate amount they perceive the project to be worth, without the influence of other parties.


How Do Bids Set the Tone?
Bids set the tone for an entire project. Factoring in items like construction schedules, labor costs, sample costs, bonding and insurance companies, partnerships, and other areas of the project scope shouldn't be taken lightly. Moving forward with any project should have a sound strategy — and it starts with the bid process. Below, we briefly explain our view on bidding.


Immel's Bidding Process
Prior to moving forward with the bid, our team analyzes whether a project is a good fit or not for Immel Construction. We create a form that determines the pros and cons. This is important to establish as we decide whether or not to move forward with the bidding process.
Ultimately, asking whether or not there's a sound strategy to win the bid at a profitable margin will determine our next move. And although getting the lowest bid can be ideal, Immel wants to also make sure we get the best value.
Our view on the bid process focuses on more than just the money though. Immel wants to know if there's an opportunity for future work and an ongoing relationship with the client. We want a consistent commitment with them. Relationships with our clients and our community for that matter are at the core of why we exist — to serve people.
Understanding the bid process is crucial to setting up the next phase: determining the pre-construction services offered. These services are offered before any actual construction begins and are aimed at educating the client about what will be needed to make the project a success. Learn more about the pre-construction services phase in part 2 of our 4-part blog series.