The 12th annual Converters Expo kicks off on March 27th at Lambeau Field in Green Bay. And, for the first time, visit Immel Construction at Booth 107 on the tradeshow floor.
This event is billed as "all things converting" and features additional exhibit space in 2019. Converters Expo unites converters of paper, film, plastics, and nonwovens with industry buyers, specialists, and suppliers. Attendees have direct access to manufacturing partners, testing and prototyping equipment demonstrations, producers of disposables, and the latest in flexo printing and packaging. See the full agenda here.
Who Attends Converters Expo
Companies looking for:
Contract manufacturers to help in all aspects of production
Partners that can add unique value to the manufacturing process
Printing, packaging, and testing services
Expansion ideas and new equipment
The latest in efficiency, techniques, advances, and more

Converters Expo also appeals to product developers looking for converters and manufacturers to create product, buyers looking to source or outsource a converting step or process, manufacturers procuring production line equipment or parts, and converting professionals looking for insight on new technologies and equipment.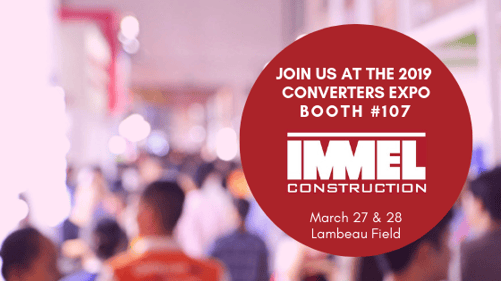 Immel's industrial division team is excited to be part of the Midwest's only one-day expo as an exhibitor for the first time.
We're looking forward to the opportunity to visit with our existing partners, meet new people, and share our industry expertise with the converters industry. Exhibitor space is sold out and will feature 124 different booths. We'll be in good company with a wide variety of companies, people, and brands connected to the converting industry. Our goal is to facilitate conversations and deepen connections within the converting industry as the businesses, companies, and services all require building services, equipment installations, and rigging. That's where Immel Construction comes in.
The Green Bay to Chicago Converting Corridor
"Now in its 12th year, Converters Expo, taking place in the center of the nation's converting industry will feature a sold-out show floor with many new exhibitors, giving attendees a better opportunity to see all of the newest products for the industry," said Glen Gudino, group publisher for BNP Media Packaging Group, the Expo's host. "The Green Bay-to-Chicago area is the largest converting corridor, and the perfect place to bring together hundreds of converting professionals to discover global market trends and applications, learn the business outlook for the converting industry, and network with top CPG producers and brand owners in a relaxed environment."
The Converters Expo kicks off Wednesday, March 27, with a welcome reception from 6:00 – 7:30 pm in the Green Bay Packers Hall of Fame. This expansive two-level facility contains a vast array of Packers memorabilia and franchise history.
Over 700 attendees will have the chance to network with clients, vendors, and industry associates. The exhibit hall will be open from 9:30 am – 3:30 pm on Thursday, March 28 with a lunch buffet at 12:00 pm and happy hour at 1:30 pm.
Located in the heart of the nation's top Converting Corridor, it is the place to find manufacturing partners, check out testing and prototyping equipment, meet with producers of disposables and learn the latest in flexo printing and packaging.